A Celebration of Working with the Dacon Trust : Autumn 2007 - to date -
providing art workshops in a supportive environment
The Level Best Art Cafe, D'arcy House, 3 Culver Street East, Colchester, Essex CO1 1LD
2015
I am very happy to say that our artists have gone from strenght to strength and have produced a ceaseless stream of work. We continue to exhibit regularly at The Colne Gallery, The Hart Gallery, both at Colchester General Hospital. We are currently working on 12 large posters for the Sunshine Line, a branch line of the Abelio Greater Anglia Railnetwork. For more information, please visit www.dacontrust.co.uk and http://www.dacontrust.co.uk/article/first-site-open-art-exhibition-2015
artcolevelbest

| | | | |
| --- | --- | --- | --- |
| | | | |
| | "Lovejoy" by Emily | | |
| | | | |
| | | | |
| | "Political Animal" by Ryan and friend | | |
| | | | |
| | | | |
| | "Tortoise Tins and Pans" by various artists, tile grout, woks, fying pans, biscuit tins, mosaic tiles and metal foil | | |
click for slide show of a small selection of artworks made by trainees, notably The '60's heads, The Medieval Bowls, Winning Christmas Windows.


The Debate Goes On: Art for Art's Sake and Special Needs
2011 nearly saw the end of my work at The Level Best Art Cafe as Art Development Officer / Artist in Residence. However we pulled together and Seasonal Produce was born!
The concrete benefit brought to individuals with special needs is the same as for anyone, but our art-making had been frequently misunderstood by the management, who had undermined, insulted and devalued our best endeavours. Those among us blest with talent had found it remained uncelebrated, as developing it remained a challenge, and in the end it seemed unfair to champion the few. The change of focus to the pursuit of therapeutic earnings was a fresh start and has brought great rewards to all concerned. Beautiful labels, packages, boxes, hampers, tags, and wrapping paper now sit next to our more abstract creations.

The Art Auctions and The ArtCo Blog
Summer 2011 was a turning point for the way in which we achieved art sales. Hard-selling to cafe customers in a week-long Auction, we raised enough funds to buy more paint and canvases, and a long awaited custom designed rubber stamp! The ArtCo Blog was started and now keeps our followers up to date with our latest gallery news on artists and art related events and products. The December 2011 Art Auction followed, this time by silent Auction, a more soft-sell approach and easier for everyone. We repeated our success and re-stocked our art supplies, this time focusing on making paintings for our own (toilet!) walls, which are for sale too.The ArtCo Blog

seasonal calendar : all images © The Dacon Trust

winter 2008 : all images © The Dacon Trust
Order greeting cards from The Dacon Trust


Winners of the Colchester Corba Christmas Window Display by an Eatery December 2008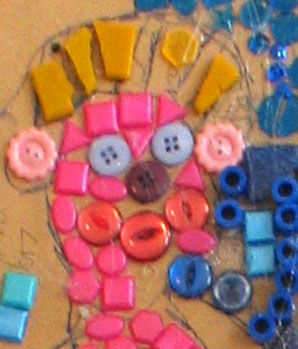 St Helena made from recycled materials :
Bitesize Buildings for the Mayor of Colchester March 2009